As the curve of new COVID-19 cases begins to flatten, organizations are beginning to look at what their future workplaces will look like, in a world where the virus remains a threat but some level of on-site work has returned. People and organizations alike will need to remain vigilant and work differently from how they have in the past in order to remain as safe as possible.
As part of a comprehensive Infectious Disease Preparedness and Response Plan, organizations should examine how they can use hierarchy of controls to systematically reduce COVID-19 exposure in their workplaces.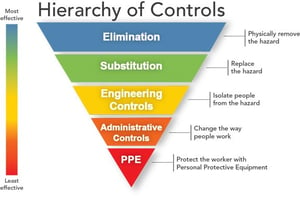 While all organizations should tailor their safety measures to their own unique exposures, as a simple example, we describe these based on changes implemented at a local convenience store.
Elimination would remove COVID-19 exposure from the workplace entirely. While the store remains open, it can make sure that workers who are ill or who have been exposed to the virus stay home. The store has also eliminated fresh coffee and food service, which were high-traffic areas where the virus might linger on absorbent surfaces.
Substitution does not apply to COVID-19, since it involves replacing something intentionally used as part of a process with another, less harmful alternative, such as replacing a solvent-based paint with a water-based paint.
Engineering Controls reduce exposure without relying on worker behavior. At the store, the cashier stands behind a portable plastic shield. Other engineering controls include drive-through windows for customer service, and increasing ventilation in the workplace.
Administrative Controls reduce exposure through workplace behavior. Most visibly, customers at the store are required to wear masks when they enter and maintain six feet of distance between each other. Employees follow a regular cleanliness process including hand washing and surface disinfection. They could also be trained to recognize COVID-19 symptoms and follow isolation procedures if they or a customer appear symptomatic. Encouraging work from home, eliminating nonessential business travel, and regular updates on COVID-19 risk factors are just some examples of other administrative controls.
Personal Protective Equipment (PPE) is the last line of defense, since it relies on adequate supplies and consistent, proper use. In this case, cashiers and staff wear cloth masks and disposable gloves, taking care to wash their hands after using them. Effective respiratory protection remains in short supply, and distraction from fatigue or stress are just two reasons that someone might use PPE incorrectly or inconsistently.
Thinking outside the box and multiple perspectives can help provide innovative solutions to use the hierarchy—supervisors, engineers, leaders, workers, anyone can provide a unique perspective on where exposure happens and how to eliminate it. Do we need to change a work schedule? Would a buddy system help?
Thoughtful application of the hierarchy of controls can provide effective exposure reduction as part of a holistic, continuously evolving safety plan to protect against COVID-19. Engage with your people, identify hot spots, find out what's working, and adapt your controls accordingly to help keep them (and you) safe.
For more resources to support organizations during this COVID-19 crisis, visit our website.
Image: Centers for Disease Control and Prevention, https://www.cdc.gov/niosh/topics/hierarchy/default.html